[featured_image]Not too long ago I posted about Missional Circles and highlighted the emphasis for church planters to understand that… Every believer has been sent by Jesus with the Cross in Community to the Culture for the King and His Kingdom!
I also have posted on the importances of developing specific practices to live this out that include Habits of Faith, Hope and Love.
Today, as I was contemplating how to focus on disciplemaking, I created the following chart: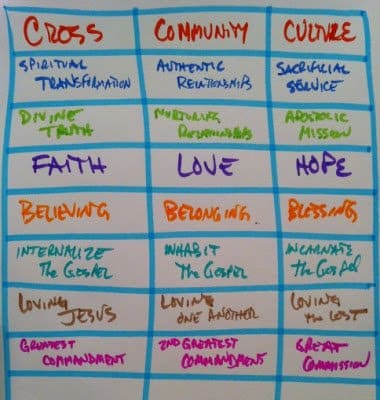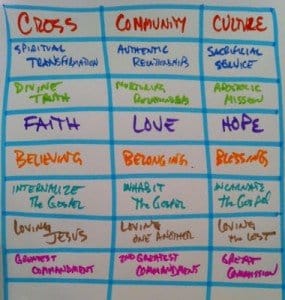 Every believer has a responsibility to take the message of the cross together in community with other Christians to those in the culture around them. This is how disciplemaking happens. If Christians simply hang out together with other Christians and enjoy the personal benefits of the cross – but they don't take the cross to those in the culture around them, they are disobeying Jesus who sends every believer on mission to make disciples. You can internalize the gospel and inhabit the gospel in community with others – but if you fail to incarnate the gospel, disciplemaking will not happen. You can't just love Jesus and love one another and not love the lost. You can't obey the greatest commandment and the 2nd greatest commandment and then ignore the great commission. It all goes together! Without all three, disciplemaking will not happen. So what do you think? Comment below…
How important to your process of disciplemaking are Spiritual Transformation (Embracing the Cross), Authentic Relationships (Experiencing Community), and Sacrificial Service (Engaging the Culture)?
Today's Missional Challenge
Consider how you will live out these three concepts of embracing the cross, experiencing community, and engaging the culture.