[featured_image]
What books would help Christian coaches?
Over the years I've read a lot of books on Church Planting, Evangelism, Leadership, Disciplemaking, Missions, Outreach, Coaching, Church Administration, Church Growth, Spiritual Disciplines, and so much more. I want to recommend these books on Christian Coaching:
The Missional Challenge Top 10 Christian Coaching Books
1. Empowering Leaders Through Coaching (1995) by Steve Ogne and Tom Nebel
This book truly introduced me to coaching for Christian leaders. The combination of audio recordings, worksheets, prayer journal, and action planning guides sets this resource apart from the rest. It's practical and timeless. The section on the "art of listening and asking good questions" is brilliant and includes 99 excellent coaching questions and ways to turn statements into questions. You'll also benefit from ways to build a coaching movement. (currently out of print)
2. Leadership Coaching (2005) by Tony Stoltzfus
Great introduction into coaching – "coaches are change experts who help leaders take responsibility for their lives and act to maximize their own potential." Discusses the coaching paradigm and coaching process with emphasis on listening and asking powerful questions.
3. Coaching for Christian Leaders (2007) by Linda Miller and Chad Hall
Solid orientation to Christian coaching – with emphasis on core skills and the coaching relationship. Great insights like this one – "Sometimes, the coaching relationship is the only situation in with a person knows he or she has no need to worry if mistakes are made and feels safe enough to try new behaviors."
4. Coaching 101 and Coaching 101 Handbook (2003)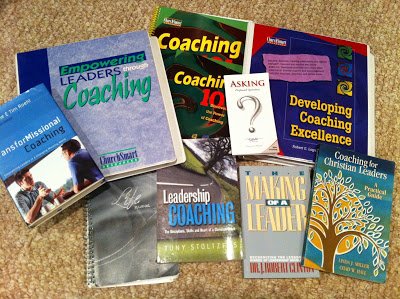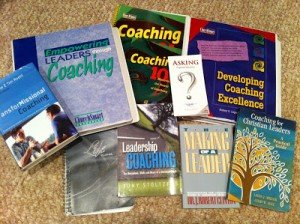 by Robert Logan/Sherilyn Carlton and Robert Logan/Gary Reinecke
I highly recommend the book and workbook for new coaches. The 5 Rs (Relate, Reflect, Refocus, Resource, and Review) form a simple model for asking questions that determine priorities and action steps. These were extremely helpful in my early development as a coach.
5. The Making of a Leader (1988) by Robert J. Clinton
Coaches will benefit from Clinton's masterful understanding of the development stages of a leader. These leadership insights will help you to focus on the coachee's being, not just doing.
6. TransforMissional Coaching (2008) by Steve Ogne and Tim Roehl
If you are working with post-modern leaders, you need this book. It includes a great section on coaching based on someone's leadership style, provides a holistic approach to coaching, and dives into the character and credibility of a coach.
7. Life Journal (2007) by www.lifejournal.cc
This is not a book on coaching but a journal for recording your personal discovery from reading and meditating on God's Word. The S.O.A.P. model is a helpful process for asking questions of Scripture that lead to deeper understanding and application of God's truth. Using the journal will establish a deeper faith and relationship with God which is critical for all coaching relationships.
8. Developing Coaching Excellence (2003) by Robert Logan and Gary Reineck
This resource includes audio recordings, worksheets and assessment tools that will help you develop nine coaching competencies.
9. Asking Profound Questions (2011) by Bobb Biehl – order from 800.443.1976
This small little reference booklet contains over 100 great questions! It also provides a framework for asking questions for greater impact.
10. Christ-Centered Coaching (2006) by Jane Criswell
This book will introduce you to seven coaching approaches, which also serve as seven mental models or attitudes of a coach.
There are other great books on Christian coaching, but these are the books that have impacted me personally. I hope this list gives you a solid place to start. Enjoy!
Finally – I recommend Keith Webb's soon to be released book on The Coach Model for Christian Leaders.
Today's Missional Challenge
Discover the power of coaching by reading and learning from others.
Disclosure of Material Connection: Some of the links in the post above are "affiliate links." This means if you click on the link and purchase the item, I will receive an affiliate commission. Regardless, I only recommend products or services I use personally and believe will add value to my readers. I am disclosing this in accordance with the Federal Trade Commission's 16 CFR, Part 255: "Guides Concerning the Use of Endorsements and Testimonials in Advertising."