Guest Post by Dan Moushey
Why did I write Crazy Hope?
To impact people with the gospel
I wrote Crazy Hope as a vehicle to lead people to the gospel because it alone is the power of God for salvation to everyone who believes (Rom. 1:16).
Although it is the gospel that changes lives, more often than not, God uses our personal testimony as the vehicle through which it is delivered. After preaching at my first men's conference in 2014, it became apparent that my story resonated with many and, although my testimony is somewhat dramatic, most were able to relate to my confusion, pain and suffering. However, if our testimony does not lead people to Christ's testimony (the gospel), there will be no power of God for salvation for people to believe.
Apart from God's amazing love and divine intervention, I would have suffered a shipwrecked life. Knowing that many are on a course set for destruction compelled me to write. In Crazy Hope, I invite readers into my journey from losing all hope to discovering the one hope that will never disappoint.
"If our greatest hope does not have God and what He has done for us as its foundation, we will never discover our true identity."

– Crazy Hope, p. 33
To provide a resource for the church
As I have counseled Christians and non-Christians throughout the years, it has become apparent that only a few understand their true identity and possess true hope. These two main themes run parallel throughout the book, leading to a climax of discovery when true hope and identity are found. Crazy Hope can be used as a devotional or simply read from cover to cover.
After each chapter, I encourage readers to consider their greatest hope in life, as well as where they are at in processing through these themes. Throughout the book, readers will encounter narratives from the life of Christ that look more deeply at where His hope and identity were found, along with the stories of other individuals that coincide with certain chapters of my life story.
As I began writing, it became apparent that my identity had often hinged on my greatest hope coming to fruition. So, when my greatest hopes failed to materialize, my identity crumbled. Although an identity crisis can be devastating, the reader will discover that this is oftentimes a necessary means to a glorious salvation.
"What if our greatest disappointment could actually become the catalyst leading to our greatest blessing? What if God strips away our false hopes in order to give us true hope? In light of eternity and all that is at stake, wouldn't that be the most loving thing God could do?"

– Crazy Hope, p. 186
To provide a resource for seekers      
In these unprecedented times, people need to know that there is hope. Everyday, billions of people are living their lives with no understanding of who they really are and with their hope anchored to this fleeting world. This causes a skewed view of reality and distorts our understanding of the real purpose and meaning of life.
My reality was certainly skewed for the first part of my life. Since I did not understand my true identity, I substituted false identities and placed my hope in what this world had to offer. Unfortunately, this led me down a destructive path because I failed to recognize God's hand in my life. It's hard to believe in God's sovereign love when the things we hope for don't come to pass. We often don't feel His love when we lose a job, lose a limb, or lose a loved one. In the midst of suffering and loss, it's hard not to wonder if God might be against us and not for us.
Thankfully, I have learned that the opposite is true. God's sovereign love permeates every part of our lives, and His love compels Him to orchestrate events in our lives that best help wean us off the things of this world to find dependency and hope in Him alone. He has our unimaginable best in mind. God wants us to discover the fullness of who we really are in Him and the glory of being everything we are meant to be.
Crazy Hope is raw and relatable, and seekers will identify with my confusion and struggle with religion and the church. But ultimately they will be led to the power of God for salvation to everyone who believes.
"Time and again, the treasure I now possess has proven to neither falter nor fade. It seems that the greater the pain, the greater its comfort; the greater the turmoil, the greater its peace; the greater the darkness, the brighter its light. … CRAZY HOPE not only restores our true identity, it is how God leads us home."

– Crazy Hope, p. 184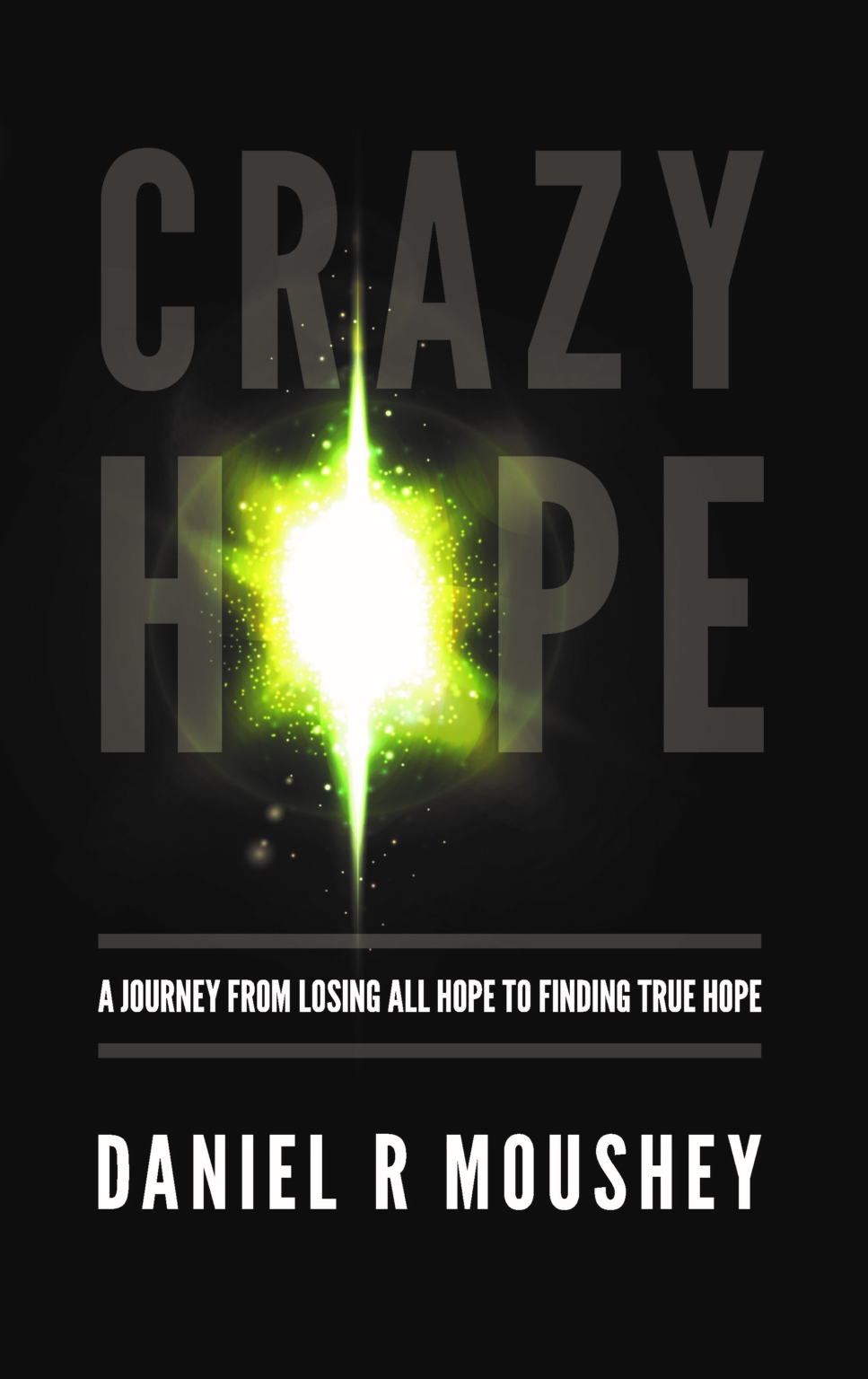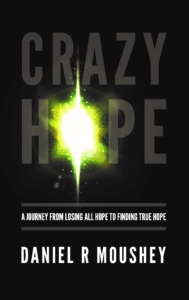 CRAZY HOPE: A Journey from Losing All Hope to Finding True Hope
After a head-on collision, Dan Moushey suffered the loss of his girlfriend, his left leg, and his dream of playing professional baseball. When his greatest hope was lost, so was his sense of identity. CRAZY HOPE retraces the years of Dan's physical and mental crisis and leads the reader to discover how a person's greatest hope forms their identity. Who you are hinges on what you believe. When our greatest hope is limited to this world, our identity is distorted. CRAZY HOPE is a story about losing all hope in order to discover the only hope that will never disappoint. When CRAZY HOPE is found, true identity is restored.
Disclosure of Material Connection: Some of the links in the post above are "affiliate links." This means if you click on the link and purchase the item, I will receive an affiliate commission. Regardless, I only recommend products or services I use personally and believe will add value to my readers. I am disclosing this in accordance with the Federal Trade Commission's 16 CFR, Part 255: "Guides Concerning the Use of Endorsements and Testimonials in Advertising."