[featured_image]
Every time I teach or train on Missional Living or Church Planting, I draw three circles o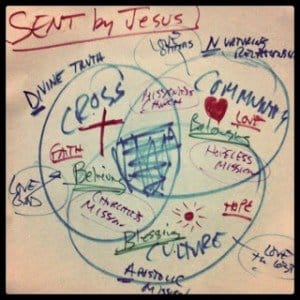 n a large poster paper. This is the simplest way for me to explain what aligning with the mission of Jesus looks like.
Simple Understanding of Missional
Simple is good. It actually takes a large amount of effort to explain things in a simple way.
Here is a Simple Understanding of Missional:
Sent by Jesus with the Cross in Community to the Culture for the sake of the King and His kingdom!
Typically as I explain each of the three circles – I write the words Cross, Community, Culture in each one. There three words capture the essential components of missionality.
As I continue, I explain the parallel ideas found in these circles:
Cross
Community
Culture
Believing
Belonging
Blessing
Faith
Love
Hope
Divine Truth
Nurturing Relationships
Apostolic Mission
Loving God
Loving Others
Loving the Lost
Neglecting the Cross, the Culture, or Community
If you fail to include any of these Missional Circles, the mission will fail!
Cross + Community (- Culture) = Missionless Church
Community + Culture (- Cross) = Hopeless Mission
Culture + Cross (- Community) = Churchless Mission
(To read more about this, explore: Failing the Mission)
Unfortunately, many churches in America are Missionless. They embrace the cross and experience community, but they never engage the culture. Unless, of course, lost people wake up on a Sunday morning and decide to come to church.
As Len Sweet observes, "The time for getting people to come to church is over. It is time now to get people to come to Christ."(Faithquakes, p 28)
Today's Missional Challenge
Embrace the Cross, Experience Community, and Engage the Culture for the sake of the King!