[featured_image]I have long understood that leadership is influence.
I appreciate Bobby Clinton's understanding of this:
"A Christian leader is a person with a God-given capacity and the God-given responsibility to influence a specific group of God's people toward God's purpose for the group." – The Making of a Leader
Recently, I've started reading Spiritual Influence by Mel Lawrenz. He writes,
"Leaders abound today, but there is a desperate need for leadership that has spiritual substance. The only enduring influence is God, so we must guide people to the place where God does His transforming work. This form of leadership understands God as the influence and we as his instruments."
This is an important truth to grasp as Christian leaders – whether you are leading in ministry or the marketplace.
God is the influence.
We are His instruments.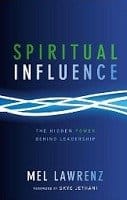 Today's Missional Challenge
Influence God's people toward God's purposes!
Disclosure of Material Connection: Some of the links in the post above are "affiliate links." This means if you click on the link and purchase the item, I will receive an affiliate commission. Regardless, I only recommend products or services I use personally and believe will add value to my readers. I am disclosing this in accordance with the Federal Trade Commission's 16 CFR, Part 255: "Guides Concerning the Use of Endorsements and Testimonials in Advertising."