[featured_image]I love training and coaching churches planters to start new churches by making disciples!
A few months ago while I was training church planters in Arkansas, I had the opportunity to discuss my passion for disciplemaking and church planting with Larry Barker, Director of North America Missions for the Baptist Missionary Association of America.
Watch the video (or click here to view online).
Larry: What are you passionate about?
Dave: I love church planting! I get so excited to come alongside church planters to help them navigate the challenges that they face in really getting churches started that are about making disciples. I was blessed to have a great friend of mine, Steve Ogne, come alongside me and coach me. So I get so excited to come alongside church planters and help coach them, and train them, and help them to very strategically be about the mission of Jesus. That's what I'm most passionate about.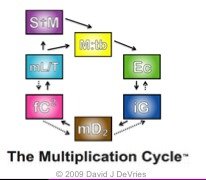 Larry: We've really been enjoying your training here. Of course you have The Multiplication Cycle of how it should happen and what should come first. So talk with us a little about that.
Dave: Sure I'd love to. You know most church planters when they go out to plant a church, they are about the mission of Jesus and they want to see lives changed by the message of the gospel – the hope of Jesus Christ who died on the cross to pay the penalty for our sins. They want people's lives changed by Jesus, but how they go about accomplishing that may or may not lead to seeing lives changed and disciples who make disciples who make disciples. So as I began to look at what did Jesus do, what did Jesus really come to do? And I look – Yes! He came to seek and to save that which was lost. He came to die on the cross to pay the penalty for our sins. But essentially what we see Jesus doing is — we see Jesus making disciples who would go out and make disciples who would make disciples.
So I want to challenge and work with church planters to help them to grab that mission of Jesus and to really attach themselves to the supremacy of the Great Commission in their church planting efforts. Then begin to start thinking and acting like a missionary. What is a missionary? A missionary is a sent one, right? Sent on mission with the message of the cross together in community with other Christians to engage those in the culture.
I want to help church planters to seize that mission, to start thinking and acting like a missionary, and then to really understand and exegete the culture around them, so that they can incarnate the gospel in tangible ways by blessing and serving others, meeting their needs – so that then as they gain access and relationship with people in that community, they share the gospel, people come to know Jesus, and then they begin that process oftraining them to make disciples to make disciples. And out of that – then churches are birthed.
Larry: You have a quote that I've used a lot – and I give you credit – that says,
"Don't plant churches to make disciples; make disciples to plant churches."
Correct?
Dave: Yes.
Larry: So i sn't that kind of an egg before the chicken, chicken before the egg – or is it not?
Dave: Not really because what happens a lot of times is church planters think, "If we just start services, we're starting a church." And really, the focus is really built on this idea that if we just start services, people will come. I think we live in this post-Christian era in the United States where t hat might have been true in the past but I don't think that it's true any more. It doesn't automatically result in disciplemaking.
Larry: I agree…
Today's Missional Challenge
Seize the mission of Jesus, incarnate the gospel and make disciples!