[featured_image]Over 50 years ago, Nate Saint, Jim Elliot, Roger Youderian, Ed McCully, and Pete Fleming were all spurred by a passion to share the gospel message with the Auca Indians in Ecuador. After making contact with this isolated tribe whose previous response to the outside world had been to attack all strangers, they together responded in obedience to Jesus — and tragically, all five men were killed by those they were trying to reach.
(Note: Learn more about them by reading Through Gates of Splendor or watching The End of the Spear).
After reading the book, I was personally gripped by the commitment and obedience of each of these men to follow Jesus in His disciplemaking mission, even to death.
Pete Fleming wrote this and I think it helps us understand what it means to truly follow Christ:
"A call is nothing more nor less than obedience to the will of God, as God presses it home to the soul by whatever means He chooses."
Missionary pilot Nate Saint described his commitment to follow Christ when he wrote:
"I'm concerned about safety, but I don't let it keep me from getting on with God's business. Every time I take off, I am ready to deliver up the life I owe to God."
Ed McCully wrote back to his parents after reaching Ecuador:
"I praise God for bringing us to this land to work with these people. I pray that we might be faithful to our calling and that God will use us to bring many of these Indians to Himself."
Jim Elliot gets right to the heart of following God and surrender when he wrote:
"He is no fool who gives what he cannot keep to gain what he cannot lose."
How do these 5 missionaries inspire you? Are you willing to obey God whatever He asks?
It's easy to listen to God's Word and think, "I need to do what it says. I really ought to change that. I should obey." And then we don't change because we haven't made the choice to obey.
I do this. I read the Bible. Then I don't obey.
The problem is that many Christians simply don't plan to obey!
I fail to put what I know into action. I'm like the guy who looks into the mirror but never intended to do anything about what he sees. (Are you like that?)
Maybe you know what God says to do (for example: "Make disciples") — but you don't actually plan to obey!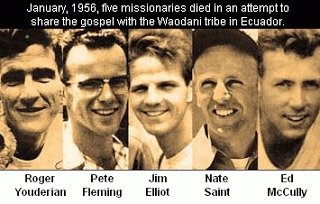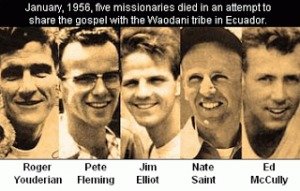 Today's Missional Challenge
Disclosure of Material Connection: Some of the links in the post above are "affiliate links." This means if you click on the link and purchase the item, I will receive an affiliate commission. Regardless, I only recommend products or services I use personally and believe will add value to my readers. I am disclosing this in accordance with the Federal Trade Commission's 16 CFR, Part 255: "Guides Concerning the Use of Endorsements and Testimonials in Advertising."