[featured_image]
My friend and colleague Dan Riemenschneider works with churches across the country to help them focus on making disciples who make disciples. His passion is strengthening local churches. Together, we've developed a training process that helps churches to re-engage with the mission of Jesus.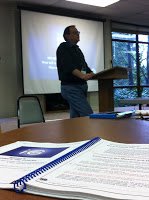 For the past few months we've been partnering with several pastors in the Missionary Church Western District to train them to facilitate Peer Learning Clusters. Today, our training focused on the importance of multiplying disciples who make disciples.
Today Dan shared with us the importance of developing a Disciplemaking Engine. He used the model that Jim Putnam has developed at Real Life Ministries in Post Falls, Idaho (link to Real Life Discipleship book) to show pastors how to develop their own Disciplemaking Engine:
Working with Those without Christ (Spiritually Dead)
We used a tool called H20 from Kyle Idleman. It is a wonderful video based, story based tool giving the basics of the Christian life. We launched an entire church from this, starting with one Person of Peace who wanted to reach his neighbors in his apartment building. In one year we had 35 new believers and released them to form their own missional community. I am using this tool now at a church I am coaching and they have launched two "discovery" groups with pre-Christians. One in an apartment complex in downtown Indianpolis and one in a trailer park near the church.
We also taught our leaders how to have missional conversations with everyone they met.
Whoever came to Christ, we gave them a mentor (this is the intentional movement process)
Working with New Believers (Spiritual Infants)
We hooked each new believer with a mentor who used a tool from the Navigators (from NavPress) called Growing in Christ — 13 lessons on assurance and the basics of their new life in Christ. There are many other tools, but as Dave DeVries said, find something and stick with it until you find something better. This is what we used.
After the mentoring, we got each new believer into a connection group (small group).
Working with Growing Believers (Spiritual Children)
We used Christian Life Profile by Randy Frazee. It gives 30 essentials for the growing Christian: 10 critical beliefs, 10 critical heart changes (basically the fruit of the spirit plus a couple of others), and 10 critical practices. I shared this with our small group leaders and they used this to pick curriculum for their groups. They also used this to help each person in the group create a growth plan for working on one or two areas. Even though I am not at this church, I still use this for my life. The area I am working on right now is that Jesus said to love others as he loved us. So I am looking through the gospels on how Jesus loved his disciples and writing this down. Love is one of the "essential" heart issues and I want to grow in this area.
In our small groups we built in the "teaching to obey" process that Dave DeVries talked about by having people get with someone and ask some character questions in three areas: connecting with God (what did God teach you this week and how are you living it out), connecting with each other (living out the "one another's" of scripture) and connecting with the community (having missional conversations and living incarnationally at work and in our neighborhoods).
We encouraged each small group member to take assessments to discover how God made them and then find a place of service. This is the "movement" to the next level.
Working with Workers (Spiritual Young Adults)
We used Network to help people discover their gifts, passion and personality.
We met with those who took this to help them find a place of service either in the community (like mentoring at our local elementary school, we ended up with 20 doing this and they are still having a great impact at this school) or in the church (like being a mentor to new believers or to people trying to find a place of service or serving children, etc)
Working with Multipliers (Spiritual Parents)
We used several resources to help our people become multipliers and release them to work with new believers and pre-Christians: Mentor Leader by Tony Dungy (great book but even more impactful because Tony was coach of the Indy Colts), Just Walk Across the Room by Bill Hybels, used the "phrase from the stage" you will read about in Real Life Discipleship. A new resource I have just started to use in coaching churches is MOVE, the last book in the Reveal study that Willow Creek did. It shows the process and critical factors to help people move through the various maturity levels.
This was not a perfect process and if doing this today (I am one year away from serving in this church) I would pick different resources now in some areas. The point here is, get a process. Look at each level of maturity and find a process and a tool to help people at that level to grow and learn what they need to learn and practice and move to the next level. That is what a Discipleship Engine is!
Today's Missional Challenge
Develop your own Disciplemaking Engine! Make disciples who make disciples who make disciples!
Disclosure of Material Connection: Some of the links in the post above are "affiliate links." This means if you click on the link and purchase the item, I will receive an affiliate commission. Regardless, I only recommend products or services I use personally and believe will add value to my readers. I am disclosing this in accordance with the Federal Trade Commission's 16 CFR, Part 255: "Guides Concerning the Use of Endorsements and Testimonials in Advertising."