[featured_image]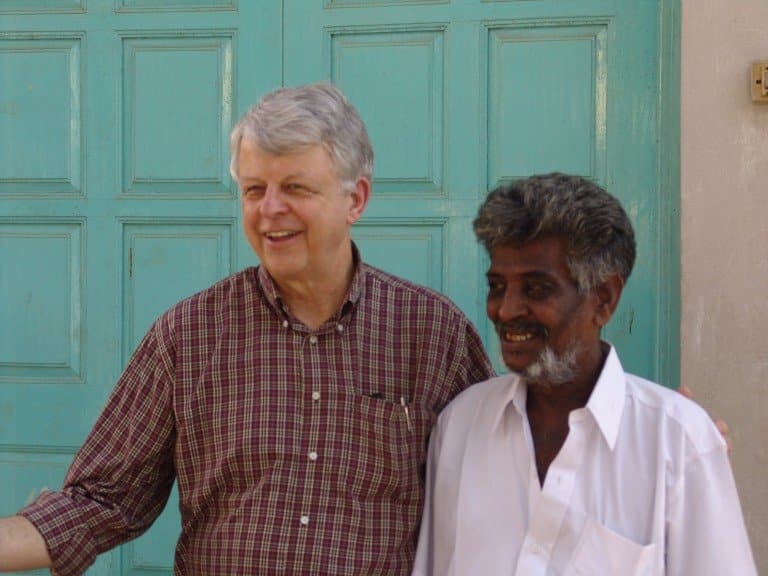 Dr. Ray Bakke (on left in photo in India last year) describes the church as an expeditionary force in The Urban Christian (1987). He views Christians as ministers to their worlds of relationships. For example, a banker who is a Christian doesn't simply serve at his church by teaching Sunday School or being on the Finance Committee. Instead, he would "identify a mission within the bank, perhaps running a Bible Study with his colleagues or even planning resources to help build up neglected neighborhoods." (p 132)
Bakke sees several advantages to an urban church which sees itself as an Expeditionary Force, emphasizing its role to "go" on mission into the city
It legitimizes the call to lay mission
It reaches more widely and follows the urban twenty-four-hour clock
It fulfills the need of specialized urban people to affirm their personal vocations as their ministry
"In this model the pastoral task is to help these members identify, plan for and equip themselves for their diverse ministry opportunities." (p 132)
Can you imagine the missionary force that could be released in every town and neighborhood in America if local churches would begin to see themselves as an expeditionary force?
The church's strategy cannot be to simply train more professional pastors; church leadership needs to train and deploy every Christ follower for the mission—to be missionaries in their neighborhoods and workplaces. Just think what could happen if churches became missionary training centers all across this nation? Instead of seeing local churches as the place to invite unbelievers to hear the gospel, what if church gatherings became the place where every believer was equipped as a missionary?
What will it take for churches to become Expeditionary Forces that transform America? Dr. Bakke suggests this answer: "Most pastors would need immense mental transformations to allow [this] model to work. This is partly because the pastoral task is so huge and diffuse, and as a result pastors tend to structure their ministries in ways they can control." (p 133)
He contrasts the church as an expeditionary force with the typical fortress model of most churches in which
people must be brought into the church programs in order to find Christ. They are then discipled into the covenant fellowship and incorporated into the lifestyle of the church. Growth expands the center, and incorporation into the congregation is assumed as the goal of discipleship. Church growth is measured at the center as the programs expand, buildings are developed and budgets increase. This pattern has become the norm for church life in America
[The fortress church] expects everything to take place at the center around the pulpit and programs. It is a busy and well-organized church. Its strength is that it provides security and structure for people. (p 131-132)
The main focus of fortress churches is often supporting church activities to attract new families.
The main focus of expeditionary force churches must be training and equipping every believer to be local missionaries sent to their own neighborhoods and cultural situations.
The challenge for every local church is to become a Missionary Training Center that equips every believer as a missionary in their zip code.
I don't believe that churches ought to exclusively embrace a fortress church model or an expeditionary force church model. Bakke suggest a healthy church is most likely a dynamic combination of both. However, the decreasing presence of churches which are training believers to embody the mission and message of Jesus everywhere requires a dramatic shift in strategies and structures!
Disclosure of Material Connection: Some of the links in the post above are "affiliate links." This means if you click on the link and purchase the item, I will receive an affiliate commission. Regardless, I only recommend products or services I use personally and believe will add value to my readers. I am disclosing this in accordance with the Federal Trade Commission's 16 CFR, Part 255: "Guides Concerning the Use of Endorsements and Testimonials in Advertising."