[featured_image]
Planting a church doesn't start with launching worship services in a community. It starts with incarnating the gospel where you live.
My friend Neil Tibbott (Church Resource Ministries, Urban Mosaic) introduced me to this approach to starting churches missionallly. (My friend Elijah Hankins created the graphic)
What's the starting point to plant churches missionally?
The following three phases describe a missional approach to embody the mission and message of Jesus.
1…Submerge::: sharing life where you live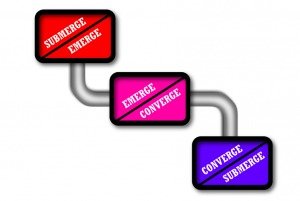 Incarnating the Gospel
Building Relationships
Being "Jesus"
Loving your neighbor as yourself
Give the gift of conversation and the gift of gathering!
2…Emerge::: blessing others in your neighborhood
Translating the Gospel into the Culture
Strengthening Relationships
Being "Jesus"
Becoming Known publicly
3…Converge::: thriving together
Sustaining the mission
A recognized presence
Reproduction is happening
The Light is shining
This may lead some to submerge again!
Check out Neil's article here.
How could this approach work where you live?