[featured_image]My good friend and colleague Karl Teichert is OC International's Field Director in South Africa. He is actively engaged in advancing Church Planting Movements in Southern Africa.
While Karl was visiting the US awhile ago, we had a great conversation on how to advance CPMs in the United States. Here are Karl's thoughts…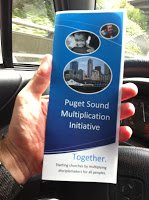 Starting a CPM Alliance in the US
Listen – have your ears on the ground to hear who is doing what
Discover – identify who is experimenting with CPM methodology
Data – develop a database of good success stories and rate them
Promote – give more exposure to effective models
Inquiry – ask questions of those who are actually making progress
Collaborate – uncover insights together
Reinforce – identify fruitful practices, then spotlight/train/pass on the best
Gather – meet in smaller regional conferences to share learning
Over the past year, our One Challenge USA team in Seattle is working to advance CPMs in the Puget Sound region. To discover more about our efforts, visit the PSMI website.
Today's Missional Challenge
Consider how you can apply the above thoughts in your region. If you live in the Seattle area, consider joining our efforts.