[featured_image]My friends Steve Ogne and Tim Roehl have written a great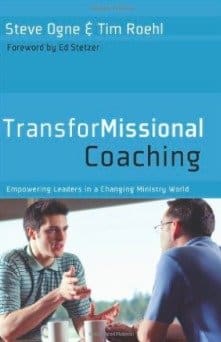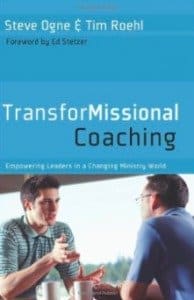 book that focuses on empowering leaders for ministry and mission in a changing world. Transformissional Coaching captures the very best of Steve's and Tim's extensive coaching experience with a particular emphasis on coaching young and emerging leaders. He has developed a holistic approach which engages the whole leader in transformation that helps clarify calling, cultivate character, create community and connect with culture. [Note: you can download a free chapter at www.steveogne.org]
Coaching has many advantages! Here are seven benefits of having a coach:
1. A Coach points out what we can't, don't, or won't see.
Coaches ask questions no one else is asking. Even the most effective leaders has blind spots. A coach has the unique advantage of being "outside" and "inside" the leader's environment at the same time. You can have the objective view of a specialist and also have genuine empathy as a member of the "team"….
2. A Coach provides a safe, compassionate, confidential environment.
Sometimes…a leader needs someone to whom he or she can voice what he or she is feeling and thinking without worrying about whether there will be negative repercussions….
3. A Coach helps give perspective.
Sometimes a leader needs a reality check. It is not uncommon for a leader to get tunnel vision about an issue, and a great coach helps him or her see the bigger picture before making a decision that could have unproductive consequences….
4. A Coach improves performance.
Both anecdotal and formal research shows the effectiveness of coaching in this regard…
5. A Coach aids with problem solving and processing conflict.
In the intense and often emotionally volatile environment of conflict, a coach can bring clarity and calm while helping the leader determine a productive course of action.
6. A Coach is a paraklete.
That's the Greek word for "one who comes alongside, an advocate, and a comforter." A coach advocates for the leader and communicates between the leader and his or her organization and supervisors….
7. A Coach empowers leaders to plan their work and then work their plan effectively in proper sequence.
A coach continually points leader back to the big picture, helping them connect all they do with their priorities and plan in mind.
Having a coach can greatly increase your personal productivity and ministry effectiveness. Ed Stetzer has found that church planters who met weekly with a coach led churches that averaged twice the size of those with no coach. (p 80)
If you would like to explore how coaching might benefit your life and ministry, contact me at davedevries.org to set up a "test drive" coaching appointment.
Disclosure of Material Connection: Some of the links in the post above are "affiliate links." This means if you click on the link and purchase the item, I will receive an affiliate commission. Regardless, I only recommend products or services I use personally and believe will add value to my readers. I am disclosing this in accordance with the Federal Trade Commission's 16 CFR, Part 255: "Guides Concerning the Use of Endorsements and Testimonials in Advertising."