[featured_image]
One of the most challenging books I've read on prayer is by E.M. Bounds, Power Through Prayer. Recently I was unpacking my books and came across this gem. Here are some challenging thoughts from this classic work: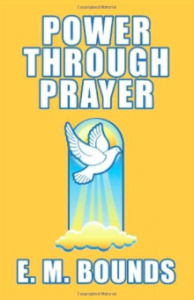 What the Church needs today is not more machinery or better, not new organizations or more and novel methods, but men whom the Holy Ghost can use – men of prayer, men mighty in prayer. The Holy Ghost does not flow through methods, but through men. He does not come on machinery, but on men. He does not anoint plans, but men – men of prayer. (p 12)
Talking to men for God is a great thing, but talking to God for men is greater still. He will never talk well and with real success to men for God who has not learned to talk to God for men. (p 27)
The men who have most fully illustrated Christ in their character, and have most powerfully affected the world for Him, have been men who spent so much tim with God as to make it a notable feature of their lives. (p 36)
The men who have done the most for God in this world have been early on their knees. He who fritters away the early morning, its opportunity and freshness, in other pursuits than seeking God will make poor headway seeking Him the rest of the day. If God is not first in our thoughts and efforts in the morning, He will be in the last place the remainder of the day. (p 42)
To be little with God is to be little for God. (p 81)
I'm convicted. Anyone else?
Disclosure of Material Connection: Some of the links in the post above are "affiliate links." This means if you click on the link and purchase the item, I will receive an affiliate commission. Regardless, I only recommend products or services I use personally and believe will add value to my readers. I am disclosing this in accordance with the Federal Trade Commission's 16 CFR, Part 255: "Guides Concerning the Use of Endorsements and Testimonials in Advertising."