[featured_image]The Washington Department of Fish and Wildlife released3 million hatchery-reared trout into lakes across the state. (reported April 27, 2012 on kxro news radio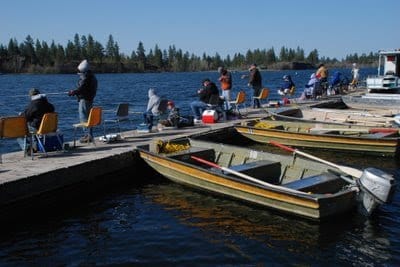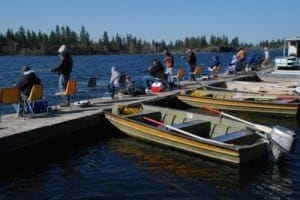 Can you imagine opening day this past weekend in Washington state with 3 million trout swimming around?
The Washington Department of Fish and Wildlife reported today…Good weather and big trout helped to boost catch rates on opening day of this year's lowland lakes fishing season.
Based on creel checks conducted at 112 lakes around the state, the Washington Department of Fish and Wildlife (WDFW) estimates that anglers caught an average of 3.99 trout on opening day Saturday, April 28.
"The weather was good and so was the fishing," said Chris Donley, WDFW's Inland Fish manager. "We saw a lot of limits taken at lakes around the state."
For most lakes, the daily limit is five fish. Donley said the 5,129 anglers contacted by WDFW on opening day retained an average of 2.6 trout – up from 2.3 fish in recent years. The rest were released.
One reason for the higher retention rate may be that three million of the "catchable-size" trout WDFW planted before the opener averaged 11-13 inches, about a third larger than before. Many lakes were also stocked with thousands of triploids, broodstock and other large trout weighing up to 11 pounds apiece.
"Lots of folks noticed those larger fish," said Mark Downen, a WDFW fish biologist for Mason and Kitsap counties. "With bigger fish and cool but sunny weather, it was all in all a good opener."
The 10 lakes with the top catch-and-keep rates were:
Ellen Lake, Ferry County (5)
Warden Lake, Grant County (5)
Panther Lake, Kitsap County (4.6)
Clara Lake, Mason County (4.4)
Crabapple Lake, Snohomish County (4.3)
Mudgett Lake, Stevens County (4.1)
Steel Lake, King County (4.1)
Devereaux Lake, Mason County (4.1)
Mission Lake, Kitsap County (4)
Sixteen Lake, Skagit County (4)
I'm not much of a fisherman. But I think my chances of catching a fish could have been much greater this past weekend on opening day. My colleague Ken Morse was telling me about the thousands of fisherman that went fishing this past weekend.
And I started wondering about Jesus words to His disciples in Matthew 4:19 – "Follow Me and I will make you fishers of men."
This verse has challenged me over and over again. If I'm following Jesus, I will be fishing for Men. These two concepts are linked together.
Similarly, if I'm not fishing for men, it likely means that I'm not really following Jesus.
Follow Jesus and Fish for Men
According to Jesus, these two activities are key to disciplemaking. Christians follow Jesus – and Christians fish for men.
Everyone you meet needs to follow Jesus and to fish for men.
If you meet someone who isn't following Jesus yet – share the message of the gospel and invite them to follow Jesus by confessing and repenting of their sin, trusting in Christ alone for their salvation, and humbly walking in loving obedience in the ways of Jesus.
If you meet someone who is following Jesus already – challenge them to join you in fishing for men.
You can tell someone is truly following Jesus when you see them engaged in fishing. That's what followers (disciples) of Jesus do — they fish for men (make disciples).
Disciples make disciples who make disciples.
Key to Good Fishing: Lots of Fish and Trained Fishermen
My daughter and I were discussing this concept tonight over a cup of coffee. We agreed that in order for fishing to actually be productive, you need lots of fish and trained fishermen.
Many times churches plan outreach events and are so focused on the event that they fail to ensure that anyone is actually there who doesn't already believe in Jesus. The result – no fishing actually takes place.
There are other times when there are lots of unbelievers (fish) at an event, but there are no trained fishermen. The opportunity for fishing is lost because no one there is actually committed to fishing. They just like hanging out with the fish. They are building relationships with the fish. The result – no fishing actually takes place.
Lots of Fish + Trained Fishermen = Good Fishing!
Anticipating Results: Increased Catch and Keep Rates
Everyone who went fishing on opening day anticipated catching fish because there were so many fish in the lakes. There are so many people in Washington who aren't following Jesus yet. The need here is for more trained fishermen who are committed to fishing for men.
Today's Missional Challenge
Follow Jesus and fish for men!