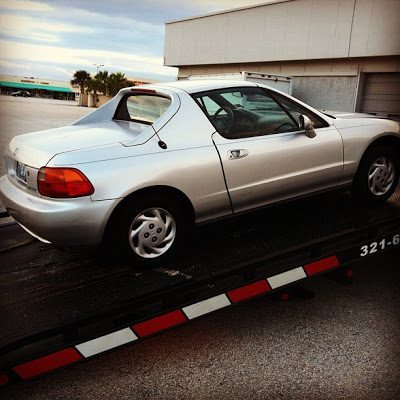 After five years of driving my '97 Honda Del Sol, it's time to sell it. It is located in Boca Raton, Florida where my son has been driving it around town. It has some great features – air conditioning, power windows, automatic, convertible, radio/cd player and new radiator. Only 154,000 miles. Original engine.
Why I'm Selling My Honda
To be honest, I don't want to sell this car. I really want to keep it. I love this car. Yet I want to be completely transparent with you why I'm selling it. It overheated last month and has been leaking coolant. It has a blown head gasket and hasn't been starting right away. In fact, right now after some initial work on it, I've been told that it won't start at all. It's sitting behind the repair shop and needs a new engine. I've decided to sell it as is because the motor doesn't work.
Cars Need Engines that Work
Here's the basic truth that most people understand – you car needs a working engine. If your car doesn't have an engine that will start when you need it, it's undependable at best. If the engine will never start, your car is worthless.
Churches Need Disciplemaking Engines that Work
For churches to accomplish the mission of Jesus, they need a working disciplemaking engine. You may be wondering: What is a disciplemaking engine?
A Disciplemaking Engine is…an effective process for making disciples who make disciples.
Here's a major problem in many churches in America. They don't have a disciplemaking engine that works. They may have a nice worship service with great features – excellent worship, practical teaching, friendly people, and comfortable seats. Yet the church members are not actually engaged in making disciples who make disciples. They attend faithfully and give generously, but they just don't obey Jesus' instructions to make disciples.
It's possible that many Christians have never been trained to make disciples. I've talked to many of them who don't even think it's their responsibility.
Too many churches are like cars that won't start.
Right now you could go sit in my car and enjoy the radio or cd player. You could put down the windows and take the top off. You could imagine driving down the coast of Florida with the sun shining and the wind blowing through your hair. The reality is – the car won't start. It can't take you anywhere.
If a church doesn't have a simple, reproducible process for making disciples who make disciples, it won't take anyone anywhere. It can't take you where you need to go to fulfill the mission of Jesus.
You may love your church and enjoy sitting there soaking up sermons and worshipping together. However, if believers aren't personally engaged in making disciples making disciples, you may need a new engine. Specifically, a disciplemaking engine. Without a working disciplemaking engine, churches will never fulfill the mission of Jesus.
5 Requirements of a
Disciplemaking Engine
1. It results in disciples making disciples making disciples. The outcome of an effective disciplemaking engine is seen in generations of disciplemakers. When you can point to the fourth generation of discipleship and beyond, you know that your disciplemaking engine is effective.
2. It is easily transferable and reproducible. In order for all believers to be making disciples, the process must be easily passed on from one believer to another. It can't be so complicated that it takes a year of training to get started. Training to make disciples needs to start from the moment a person starts to follow Jesus.
3. It emphasizes obedience (includes a "teaching to obey" mechanism). The focus cannot be on just knowing what the Bible says. It must be on both knowing and doing with a built-in accountability mechanism. Every believer needs to respond in obedience to what Jesus says to do.
4. It includes both non-believers and believers. Since disciplemaking starts with non-Christians, any effective process of making disciples is designed to engage with people before they commit themselves to follow Jesus.
5. It trains everyone to train others. Training to be a disciplemaker is for everyone, not just those who have arrived at some higher level of maturity or spirituality. Training must include every believer and enable every believer to become a disciplemaker. If you wonder how to get started, consider a few examples…
Examples of Disciplemaking Engines
1. Training for Trainers (T4T)
5. LTGs
Contact us to learn more about Disciplemaking Engines or to discover how to make disciples who make disciples.
Today's Missional Challenge
Check your church's disciplemaking engine. Make sure it works. If not, get some help. Maybe you need a tune-up — or maybe you need a complete overhaul or a new engine.