[featured_image]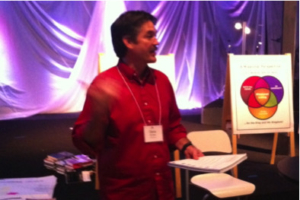 Every training event, conference, activity, workshop, seminar, course, session, module, and class has specific training outcomes. Even if you don't announce the intended outcomes prior to beginning the training, those outcomes will be evident throughout the training.
The key is to achieve those outcomes by the end of the training!
In addition to intended outcomes, participants also have expected outcomes. These may or may not be in line with each other. That's why at the beginning of every training course or workshop that I lead, I ask the participants to articulate what they need most from the training. Often I'll ask them to complete this sentence:
The one thing I need to take away from this training is…
I love hearing each person share with each other as we begin the first session. And in the last session, we give each person the opportunity to reflect on whether their expected outcome was attained. I'm often amazed at how many people received exactly what they needed…and then some.
The Multiplication Workshop Expected Outcomes
Here are some responses from participants who participated in The Multiplication Workshop last month:
"Learn to engage neighbors in spiritual conversations."
"Clarity and focus on what church planting could look like locally at [my church]."

"Clarity of calling."

"Practical tools to do a church plant."

"How to develop leaders so they own the vision an are a part of living missionally and communicating vision for a new church plant."

"To hear from God – what does He want from me?"

"That the Lord would increase my faith and vision for what He will do in our city and beyond."

"To identify any blindspots we have as a new church plant."

"How to be a successful church plant"

"Clarification and encouragement on God's calling."

"Sharpen my focus on church planting and disciple -> disciple -> disciple structures."

"See a bigger picture of what churches are doing."

"Connections with people who are not like me."

"To be well equipped to disciple others who can reach millions."
I love hearing each person share these expectations! And I love doing my part to guide the training process to ensure that these expectations might be met. If any of these expectations reflect your heart, I'd encourage you to consider attending The Multiplication Workshop.
If you are a trainer, consider clarifying expectations at the beginning of your next training. Then allow time for reflection at the end on how those expectations were met.
Today's Missional Challenge
Improve your training experiences by clarifying training expectations.