[featured_image]
Last month Larry Barker trained The Multiplication Workshop materials with a group of Philippine pastors via webcam. Last week he sent me a report of his follow-up briefing with these pastors as they implemented the training principles.
8 pastors reported on their progress! Praise God with me!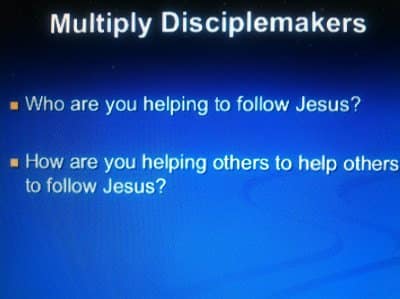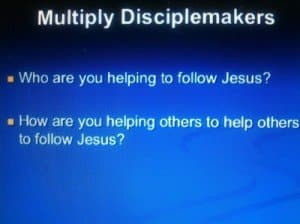 Reports: (6 weeks after training)
1. Elvis
Started SOAPing I Chron
Started gardening group in his neighborhood
6 saved – 1 last Friday
2. Doug
Reinforced what he had already been doing
Started with praying where he should go
Started praying for Person of Peace
Went where they had contacts
3. Aster
Began leadership training
Making his DNA – Disciples making Disciples
Looking for those who are FAT:

Faithful
Available
Teachable

SOAPing
4. Wade
Looking for new possibilities in their new community
SOAPing Acts for Missional Mindset
Being as visible as he possibly can being outside meeting people
Praying for Person of Peace
11 year old son has really caught the vision
5. Areo
1 saved recently
Doing leadership training on making disciples
SOAP has been wonderful
Leading his older church to go back and adopt missional thinking and behavior
6. Rex
Strategies of training have really helped him
5 have committed to be disciplemakers
4 already have 2 disciples each
12 attending his Bible study
7 recently saved
Wife saw training manual and said, "If you don't do this I will!"
7. Vincent
The workshop helped him to do what he should have been doing all along
Forced me to focus and take responsibility for my circle of influence
Started a Bible study with security guards
Leader of guards is a former Mormon missionary and now attending church
8. Randy
Trained 2 potential leaders in the church
Shared vision with the church after the training
Challenged them to accept challenge to the 4th generation
They asked to start meeting on this every week.
Today's Missional Challenge
Consider how taking The Multiplication Workshop course and joining a Multiplication Cohort could help you align with Jesus' mission of making disciples!