[featured_image]Many years ago I was challenged by this quote:
"I only have enough time to do the will of God."
If that's true, than as a church planter, pastor, leader, or follower of Christ, it is important that we all pay attention to being good stewards of the time that God has entrusted to us each week. You need to protect your time.
Since Jesus sends every believer on mission with other Christians to engage the culture with the good news of the gospel, it's important to make it a priority to make disciples who make disciples who make disciples.
I believe that it's especially important for church planters to pay attention this. They need to work hard at making disciples who will make disciples. The Multiplication Cycle™ serves as a helpful model for prioritizing your time.
Imagine what would happen if you devoted the 40 hours in your work week to these 7 activities!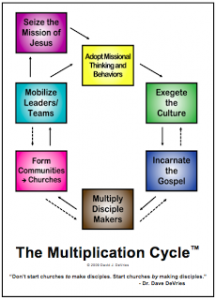 Here's a sample of what that might look like in a given week…
Seize the Mission of Jesus – 2 hours (5%)
Spend time in prayer and in the Scriptures! Read the Gospels every week and see how Jesus fulfilled His mission. Discover ways to share His mission with others. Evaluate how your life is aligned with His mission, and make necessary adjustments. Pray that His kingdom come and His will be done!
Adopt Missional Thinking and Behaviors – 2 hours (5%)
Start thinking and acting like a missionary. Devote yourself to those habits that will deepen your commitment to missional values. Plan when and where in your week you will spend time with unbelievers. Set yourself up for success. Don't spend all your time in the barn; get out in the harvest field.
Exegete the Culture – 4 hours (10%)
Learn more every week about the mission field you are called to reach. Interview key leaders in your community. Ask questions. Listen. Journal what you are discovering. Learn the common language. Find ways to communicate the gospel so that people around you will understand it. Keep learning and sharing what you learn. Ask God to break your heart for the things in your neighborhood that break his heart.
Incarnate the Gospel – 6 hours (15%)
Get out there and "be Jesus" to those around you. Find needs and meet them. Be a real neighbor to those on your street. Partner with others who serve in your community. Look for Persons of Peace. Start engaging those in the culture around you.
Multiply Disciplemakers – 10 hours (25%)
Don't just know your primary method of making disciples (a.k.a., disciplemaking engine), use it. Start making disciples of non-disciples. Start helping others to follow Jesus with you. Train followers of Jesus to help others to follow Jesus. Invest more of your time in this than anything else. (Don't be tempted to think 10 hours invested in disciplemaking is too much time – it's not!!!)
Form Missional Communities > Churches – 8 hours (20%)
As you start making disciples, for missional communities of disciplemakers who will gather together in smaller bands to focus on sacrificial service, authentic relationships and spiritual transformation. When you get three or more missional communities, gather them together monthly for worship and ongoing training. When you get five or more missional communities, consider how weekly worship gatherings will advance your church on mission.
Mobilize Leaders and Team – 6 hours (15%)
Don't just hope to recruit leaders from other churches. Start early in the process of raising leaders from the harvest for the harvest. Mentor and coach leaders who are actually engaged in disciplemaking. Form teams who wills serve on mission together and send them out to embody the mission of Jesus.
You don't have to give equal time to each of these 7 areas – but you need to give some time each week to activities in each of these areas.
If you only gave 4 hours each week to researching and studying your community – that's 16 hours at the end of the month. You are going to know so much more about the area where you live and how to communicate the gospel as good news if you spend time discovering what's unique about your community.
If you devote 10 hours every week to intentionally making disciples, how might that increase the likelihood that you will actually make more and better disciples?
One of the reasons that many church planters aren't actively involved in making disciples who make disciples is that they don't spend any time doing it! This needs to be a priority. Set aside the time to invest in 4 disciplemaking relationships every week!
If you don't have 40 hours per week to devote to starting a church – take the time you do have and divide it by these percentages. If you only have 20 hours – devote 5 of those hours (or more) to disciplemaking. If you only have 12 hours – devote 3 (or more) hours to disciplemaking.
Whatever time you have in a given week – prioritize the making of disciples who make disciples. The temptation will be to put the majority of your time into gathering with Christians for worship and fellowship. Resist. Instead, always spend more time in disciplemaking than you do in any other part of The Multiplication Cycle™.
Today's Missional Challenge
Use The Multiplication Cycle™ as your model for managing the time that God has given you each week to plant a church!