[featured_image]
Charlie Wear, publisher of Next-Wave, interviewed Neil Cole, author of Church 3.0, at the Verge Conference.
Watch some Neil Cole talks here.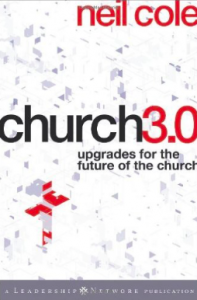 As I'm reading the book, there's so much I appreciate about Neil's perspective on the church and the future. For example,
With Church 2.0, we evaluated a church's success by how many people attended and how much money they left there. Because Church 3.0 is a movement, success is not measured by how many people come, but instead by how many go! We want to measure the church's sending capacity more than its seating capacity. We ask: "Are the message, the method, and the mission spreading from one person to the next and then on to the one after that?" (p. 169)
I've posted on this same idea of shifting the church's focus MT3: From Seating Capacity to Sending Capacity.
Cole identifies the following ingredients for Accelerating Movements:
1. A good catalyst is simple.
2. A good catalyst starts small.
3. A good catalyst is surprising.
4. A good catalyst is significant.
5. A good catalyst has "sticky" potential.
6. A good catalyst follows strategic relational pathways.
When Jesus launched the church, He launched a disciplemaking movement. Is your church part of the movement?
Read Church 3.0 to discover how to join the movement!
Disclosure of Material Connection: Some of the links in the post above are "affiliate links." This means if you click on the link and purchase the item, I will receive an affiliate commission. Regardless, I only recommend products or services I use personally and believe will add value to my readers. I am disclosing this in accordance with the Federal Trade Commission's 16 CFR, Part 255: "Guides Concerning the Use of Endorsements and Testimonials in Advertising."