[featured_image]Although it's entitled The Master Plan of Evangelism, it is a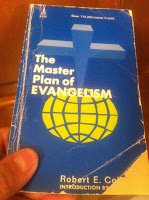 ctually more focused on disciplemaking and leadership development. Robert Coleman first published this book nearly fifty years ago in January 1963. I've had my copy of this book for almost 30 years – it's worn and used, but still very practical for today! In my opinion – it's the best book you can read on Jesus' pattern of disciplemaking. (This post is taken from my book review on amazon.com)
Coleman outlines the pattern that Jesus implemented in training His disciples. His aim is to encourage Christians to embrace the Great Commission through an "ever-expanding company of dedicated [Christ followers] reaching the world with the Gospel."
In his own words, this book "is an effort to see controlling principles governing the movements of the Master in the hope that our own labours might be conformed to a similar pattern" (p. 12). Coleman focuses on principles and strategy, rather than methods, utilizing the New Testament Scriptures as a "Textbook on Evangelism."
Guiding Principles of Disciplemaking
Jesus "concern was not with programs to reach the multitudes, but with men whom the multitudes would follow" (p. 21). This has a profound impact on the expansion of the kingdom. Christians need to understand that making disciples is primary to the task of reaching the world. Rather than focusing on developing programs, Coleman shows how Jesus impacted multitudes by focusing on training and developing a relatively few number of followers. "He literally staked his whole ministry upon them" (p. 27).
In explaining Jesus' strategy, Coleman points out several key principles that can be applied in raising leaders for the church today.
Jesus stayed with His disciples. He made it His practice to be with them. Knowledge was gained by association before it was understood by explanation. He actually spent more time with His disciples than with everybody else in the world put together.
Jesus expected them to obey Him. They were not required to be smart, but they had to be loyal learners.
Jesus gave Himself away. And He gave the Holy Spirit to them. Without His life in them, disciplemakers cannot possibly continue the work that Jesus passed on to them.
Jesus showed them how to pray, how to use Scripture, and how to engage in the work of evangelism. By being with Him, the disciples were "absorbing it without even knowing that they were being trained to win people" (p. 77). Class was always in session; they were always observing His words and deeds.
Jesus was always building into His disciples to prepare them to take over His work. He sent them out with practical assignments. And Jesus made it a point to check up on the work He had assigned them to do; He didn't assume that it would be automatic.
Most significantly, Jesus expected them to reproduce. By following Jesus strategy, "the conquest of the world was only a matter of time and their faithfulness to His plan" (p. 102).
Each of these principles point back to the reality that Jesus invested in followers whom He loved, stayed with, trained and sent on mission to the world. He expected them to reproduce His life in others. Believers need to adopt these same principles and focus on raising up disciples who make disciples who make disciples who make disciples…
Today's Missional Challenge
Disclosure of Material Connection: Some of the links in the post above are "affiliate links." This means if you click on the link and purchase the item, I will receive an affiliate commission. Regardless, I only recommend products or services I use personally and believe will add value to my readers. I am disclosing this in accordance with the Federal Trade Commission's 16 CFR, Part 255: "Guides Concerning the Use of Endorsements and Testimonials in Advertising."