[featured_image]How does the Small Group Ministry of your church contribute to making disciples who make disciples?
Recently while coaching a church planter, he told me that he was uncertain if small groups were necessary. This prompted an excellent conversation on the purpose and value of small groups in his church plant. By the end of the conversation, he was more convinced than ever that small groups were critical to fulfilling the mission of their church. Have you ever wondered if trying to develop and multiply small groups is worth the effort? Have you been frustrated by the lack of fruit that you've seen in your small groups?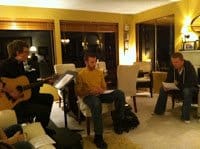 Maybe its' time to evaluate your approach to small group ministry.
Aligning Small Groups with Jesus' Mission
As I coached this church planter, I asked him to consider two questions:
1. What part did small groups play in Jesus' disciplemaking process?
2. What part do small groups play in your disciplemaking process?
Before answering these questions, disciplemaking must be recognized as the established priority of the church. There must be a commitment to the process of making disciples who make disciples who make disciples. Disciplemaking cannot be only one of the things your church does; it must be central to everything your church does. If you genuinely desire to align your small groups with Jesus' mission, you must first understand Jesus' mission. This must be absolutely clear!(If you asked me, disciplemaking was clearly Jesus' priority and method. Jesus was a disciplemaker. That's what He did. That's what He sent His followers/disciples to do.)
We can learn a lot about the early church and how the church functioned from reading the book of Acts and the epistles. But to see Jesus on mission we have to read the Gospels. How did Jesus go about fulfilling His mission? How did He interact with smaller groups of people?
Jesus invested His time with people (see "With Me" Principle). He spent time teaching large gatherings, but the majority of time was invested in three men — Peter, James, John. He also spent time with the 12 (which is a typical small group size). In fact, reading the Gospels you would conclude that being with this small group of disciples was Jesus' strategy.
So – if we are going to be about Jesus' mission and commit ourselves to disciplemaking, shouldn't we pay attention to His strategy?!
The Problem with Small Groups
I wanted to finish this post up and be done – but I'm concerned that there's a problem with many small groups in local churches. They may be called Small Groups, Life Groups, Care Groups, Bible Study, or Missional Communities. But many Small Group Ministries have the same problem no matter what you call them.
Here's the problem – many small groups have absolutely no connection to disciplemaking. There is no intention that the small groups are part of the disciplemaking process of the local church. No one is actually paying attention to whether or not small group members are engaged in making disciples. Leaders are not focused on making disciplemakers or equipping believers to join Jesus in His mission. Too often, equipping is understood to mean "teaching the Bible" rather than "training to make disciples."
Most churches use their small group ministry to accomplish many things – but the outcome is not linked directly to disciplemaking. The result of most small group ministries is not more believers engaged in making disciples who make disciples.
If your small groups are not raising up disciplemakers on mission with Jesus, what are your small groups producing?
What was the outcome of Jesus' time with His small group?
What needs to change in order for your small groups to actually begin reproducing disciplemakers?
Today's Missional Challenge
Identify your primary mechanism for making disciples. Discern what part small groups will have in your disciplemaking process.