[featured_image]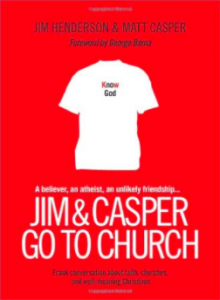 In my studies at BGU, I met Jim Henderson in one of my classes. He has written an interesting book called Jim and Casper Go To Church. He is particularly interested in helping Christian to take ordinary attempts to reach "lost people."
In this video, he interviews three "lost people" and who reveal their thoughts on being "lost" and relating to "born again Christians." You can watch the video here.
How often do you have conversations with those who don't belong to Christ?
How do you think they view you as a Christian?
What ordinary attempts could you make to reach them with the gospel?
What prevents you from proclaiming the good news?
Check out www.off-the-map.com.
Disclosure of Material Connection: Some of the links in the post above are "affiliate links." This means if you click on the link and purchase the item, I will receive an affiliate commission. Regardless, I only recommend products or services I use personally and believe will add value to my readers. I am disclosing this in accordance with the Federal Trade Commission's 16 CFR, Part 255: "Guides Concerning the Use of Endorsements and Testimonials in Advertising."