[featured_image]The Kingdom of God is here!
Imagine the Church of Jesus Christ partnering together in unity to be part of ending homelessness in Ventura., California. That's what The Kingdom Center is all about!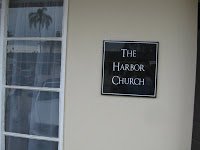 A few years ago, my friend Sam Gallucci became the pastor of The Harbor in Ventura, California. It was a small church that decided to start reaching out to the homeless in their community. Through Operation Embrace, they've been able to provide showers, laundry service, 2 meals, and full case management to 80 people every day.
As God continued to work through The Harbor, an opportunity became available to renovate the City Center Motel to provide transitional care to help people get off the streets. The vision for The Kingdom Center was born. Churches in Ventura stepped up to the challenge and began working together to make a difference. The Grand Opening was on March 21, 2010!
The Kingdom Center is bringing the Church of Ventura to focus on working together to help the homeless transition off the streets. As of July 2010 they have 20 churches participating & 10 rooms occupied with 11 adults and 18 children. Praise God!
A few months ago I had the opportunity to visit with Pastor Sam Gallucci while the renovation was being completed. As you watch this video you'll see what God is doing through His Church in Ventura!
Will you please pray for the work of The Kingdom Center?
Ask God to provide more churches to contribute $5,000 for renovation and $500/month to support a family to live there.
Recently at a gathering of church planters, Sam challenged each church planting team to discover what the greatest need is in their city and to meet it with the love of Jesus! That sounds like an awesome challenge to every Christian. "Be Jesus" to those who are most needy where you live."For I was hungry and you gave me something to eat, I was thirsty and you gave me something to drink, I was a stranger and you invited me in, I needed clothes and you clothed me, I was sick and you looked after me, I was in prison and you came to visit me."  – Matthew 25:35-36
Visit The Kingdom Center online or donate.
View more pictures on Flickr.
Today's Missional Challenge
Consider how you can partner together with other churches in your town or city to become a part of ending homelessness where you live!