[featured_image]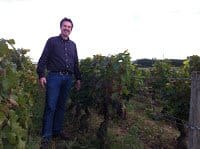 A few years ago I had the marvelous opportunity to train leaders in southern France. I spent a week at Chateau de Saint Albain. It was so beautiful. I loved running through the countryside in the early mornings past the vineyards!
My friend and co-trainer Keith Webb shared with our group some interesting insights about growing grapes:
Good grapes grow best in bad soil. It's the struggle that produces the best grapes.
Good nutritious soil doesn't produce healthy grapes.
Supplementing the soil can cause the grapes to head up to the surface and away from going deep.
Dry, ugly, rocky soil is ideal growing conditions for the best grapes.
The easy route doesn't produce healthy grapes. Their must be a struggle for the roots to go deep.
Here's the reality for many Christians – they want to grow spiritually but without any challenges. They want to trust God but often don't want to be placed in a position where they have to trust God fully.
Spiritual growth is never easy!
To become spiritually mature often requires struggle.
Here's another thought – just hanging around Christians can actually hamper your spiritual growth. Staying in an environment that is "easy" to pray, to trust, to follow — may not produce healthy growth in your walk with God.
AW Tozer has written: "It is doubtful whether God can bless a man greatly until He has hurt him deeply." (The Root of Righteousness)
As I read the Bible, it seems that those who grow and mature in their faith actually experienced tremendous challenges: Abraham, Isaac, Jacob, Joseph, Moses, Joshua, Samson, Gideon, Ruth, Samuel, David, Isaiah, Jeremiah, Jonah, Peter, James, John, Paul, and so many more!
I know that it's easy to wish that life would be "a bed of roses" or more like Disneyland. But that's not what God has promised for believers.
As I read years ago in The Road Less Traveled, "Life is difficult."
And it is through those difficulties of life that we truly grow in our ability to trust God, love God, follow God and learn from God!
Today's Missional Challenge
Embrace the struggle for growth as you follow God and join Jesus' mission. Don't take the easy road.
Disclosure of Material Connection: Some of the links in the post above are "affiliate links." This means if you click on the link and purchase the item, I will receive an affiliate commission. Regardless, I only recommend products or services I use personally and believe will add value to my readers. I am disclosing this in accordance with the Federal Trade Commission's 16 CFR, Part 255: "Guides Concerning the Use of Endorsements and Testimonials in Advertising."