[featured_image]"Seek the flourishing of the city where I have sent you."Jeremiah 29:7
Central Presbyterian Church is on mission in New York City!
"Central Church is a diverse and vibrant community of professionals, families, students, and artists rooted in the Scriptures, centered on the worship of Jesus Christ, and engaged in the world to the end that both the church and the city might flourish.
We are a church that exists not merely for ourselves, but fo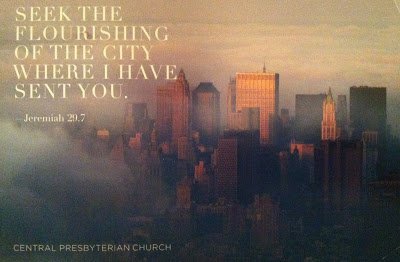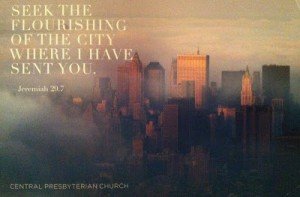 r the good of the city of New York and the wider world around us. No matter who you are, we welcome you to join us."
Last weekend, the Central Church Choir and Chamber Orchestra performed Handel's Messiah on Dec 8, 2012. Watch the performance of Handel's "Hallelujah"…
I love Central Church's commitment to the arts and to bringing the arts to NYC so that both the church and the city might flourish.
Central Church views itself as those who have been sent on mission…
The root of the word mission means "to send," and we believe that God draws us into relationship with himself in order to send us out to engage the world. Jesus instructed his disciples that he would send his followers into the world as witnesses, ambassadors and agents of the loving and dynamic reign of God. We, therefore, understand ourselves to be people who have been sent into the city to form an alternate community that pursues the common good and contributes to the flourishing of New York City.
You can visit Central on Sundays at 593 Park Avenue in NYC or on the web at www.centralchurchnyc.org.
Today's Missional Challenge
Consider how you will live for the good of your city so that both the church and the city might flourish!