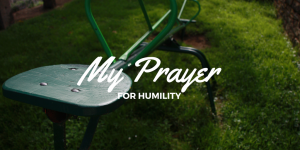 I have an internal desire to be part of something BIG, something significant, something that will change the world. I want to make a difference for God and His kingdom. I want to be part of shaping and influencing – and right now, that scares me.
God has used me in the past to start a church, to encourage and teach believers, to make disciples, to empower others for ministry, to reach the lost, to coach church planters and so much more. It is such a privilege to serve God and to experience God's power working through me to accomplish His purposes.
But – here's the scary part – I really like that feeling and I want to feel it more. Yet I don't want it to be about me. I'm just a man. I'm not as smart or creative or useful as I think I am. I'm afraid of being sucked into thinking I really have something great to offer and therefore, pastors and church planters ought to listen to me.
I want to help expand the kingdom – I just don't want it to become about me, my cool ideas and my latest blog entry. I don't want to make it about me instead of Him.
So here's my prayer . . .
Lord, help me to be humble. Make me a servant. Show me each day that is all about You. Give me the grace to accept whatever ways You want to use me. Help me to be content to simply give to others out of all that you've given to me. Don't let me think more highly of myself than I ought to think. May I always remember your example of humility. May You be exalted. May you increase (and I decrease). AMEN.
Will you please pray for me?