[featured_image]
W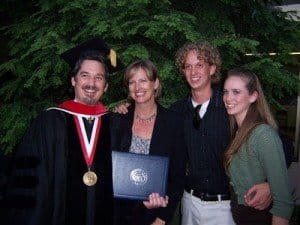 ow! On Saturday evening, I graduated from Bakke Graduate University of Ministry in Seattle, Washington with my Doctor of Ministry (D.Min.) in Church Multiplication. After five years, and countless hours of conversation and discussion, paragraphs of writing, miles of travel, pages of reading, and lots of money, I'm done!
My dissertation focused on Missional Transformation: Fueling Missionary Movements that Transform America. I will be posting more of it in the coming days.
The graduation day was awesome. It was great to have my wife, Deanne, and two children, Doug and Maddie, right there with me!
It was a blessing to have my mom there from Michigan, and Deanne's dad there from Colorado!
It just feels so good to be completed! I am excited about the future and the opportunities that God has before me. I am especially grateful to all those who have supported and encouraged me on this adventure!