[featured_image]A few months ago, I had the privilege of enjoying an evening of conversation and Thai food with J.R. Woodward. We met at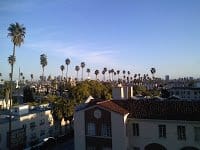 his place in Hollywood (see picture I took from his window) – and then headed down the street to eat. I thoroughly enjoyed the evening – we both share a love for the gospel, church planting and the mission of Jesus!
As we shared together, we both talked about our book projects. I was in the process of completing
Six-Word Lessons to Discover Missional Living, while J.R was almost done with Viral Hope: Good News from the Urbs to the Burbs (and everything in between).
If you haven't picked up a copy of Viral Hope yet, let me encourage you to buy it! You can order it on amazon.com here.
The book includes 50 essays by a variety of contributors including authors, bloggers, professors, and practitioners from around the country. Each of them describes what the Good News means to their town, their city, their neighborhood.
Just today, J.R. sent me a link to this video.
Where is the Good News around You?
For more about J.R's story. You can follow J.R. on twitter: @dreamawakener
Today's Missional Challenge
Discover what the Good News looks, feels and sounds like in your neighborhood, community or city!
Disclosure of Material Connection: Some of the links in the post above are "affiliate links." This means if you click on the link and purchase the item, I will receive an affiliate commission. Regardless, I only recommend products or services I use personally and believe will add value to my readers. I am disclosing this in accordance with the Federal Trade Commission's 16 CFR, Part 255: "Guides Concerning the Use of Endorsements and Testimonials in Advertising."