[featured_image]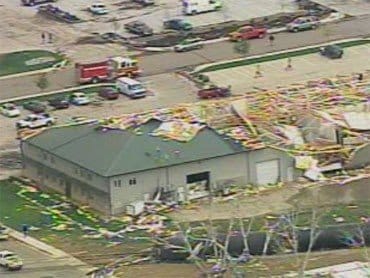 I received the shocking news that a tornado hit the community of Windsor, Colorado and destroyed the Windsor Community Church building earlier today. I've been coaching Pastor Dan Harty for the past six months. We were at the District Conference in Indian Wells together for the past three days. He was on the way to the airport on the way home from the conference when he got the word about the destruction.
Praise God the church secretary was spared as she felt compelled to leave the building just minutes before the tornado hit.
Two of the families in the church also had their houses damaged. Please pray for the people in this community and those that are part of this church family. We believe that God will be honored and glorified through all of this.
Pastor Chris Carlson from Mountain View Community Church in Fort Collins writes:
Please be praying for the church body and for the Windsor community itself. This provides a wonderful opportunity to put our faith to work in helping to serve the community's needs and sharing the good news of Christ in the midst of many people's sorrow. Unfortunately, it sometimes takes difficult events to open people's hearts – but whatever it takes, God is in control! Pray that the Lord brings himself much glory through this and that our churches can shine brightly to the people in Windsor. Also please pray that this event would significantly mark those at WCC [Windsor Community Church] and at MVC [Mountain View Community Church] and Greeley [Crossway Chapel Greeley} to make their lives count for the Lord.