[featured_image]
"Nobody Drowns in My  Water"
A Daily News article last month caught my attention (July 23, 2006). It was about the real Baywatch Malibu which is nothing like the TV show. "Nine Baywatch rescue boats, employed by the world's largest and most highly trained lifeguard service, ply 72 miles of California coast out to Catalina Island, rescuing swimmers, divers, fishermen, downed pilots and foundering vessels. When needed, they search for drowning victims."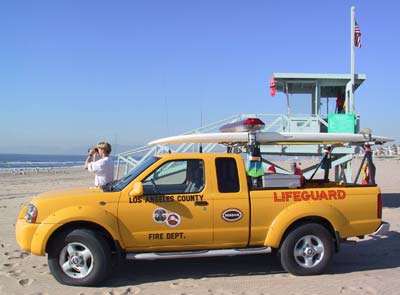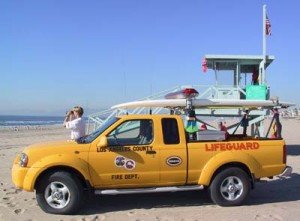 I was astonished to read that in 2005, the L.A. County Lifeguards rescued 7,000 swimmers, prevented 721,000 water mishaps and provided 22,000 medical assists. On a light day at Zuma Beach in July, lifeguards rescued swimmers at an average of one every 10 minutes. On their worst day, they rescued 437 swimmers – after which they lost count.
Captain Bill Robinson, a 53-year-old ocean lifeguard specialist, is the head of Malibu lifeguard operations and skipper of Baywatch Malibu. He was awarded the Medal of Valor in 1994 for paddling 1 ½ miles off Malibu in 60 mph winds to rescue a swimmer who'd become separated from his kayak. When reflecting on his early experiences as a lifeguard, he states, "I was scared to death, very nervous of failure. I didn't want anyone drowning in my water."
His ownership of the water caught me off guard. "Nobody drowns in my  water. If you care, you're nervous. Nobody drowned in my  water.
The mission was clear. And it is certainly measurable. Each day, lifeguards have a clear indicator of whether or not they've been successful.
Analogies to lifesaving are numerous among Christians. When Jesus said that He came "to seek and to save the lost" (Luke 19:10), He made it clear that He was on a search and rescue mission. And every Christian is sent on this same mission. Jesus told His followers, "As the Father has sent Me, I am sending you" (John 20:21).
Every Christian is on a lifesaving mission. This is clear. And it's measurable. But do we really take ownership for the mission? Can we say like Bill Robinson, "Nobody drowns in my neighborhood!"?

I know we can't save the lost. But you can make sure that every one of your neighbors has had an opportunity to see Christ in your life and to hear how your life has been changed by Jesus. You can "own" your street, your cul-de-sac, your neighborhood, your office – so that "nobody drowns in your water.
The article noted that in 2005: "Only one swimmer drowned – when lifeguards were off duty." As believers who are "on mission" – let's not consider ourselves off-duty.
In an effort to save lives, lifeguards scrutinize swimmers for signs of trouble. "Lifeguards say they wish to enact any rescues before they see signs of distress: bodies in the water, too tired to wave. Elbows dragging, too weary to freestyle above the waves. Swimmers staring at the beach, their backs to the surf as it crashes above their heads. Mouths puckered into "fish lips" – last gasps before going under.
Christians need to care, really care. We need to look for signs that people are drowning. We need to make ordinary attempts at rescue.
Parenting issues = potential rescue situation
Financial pressures = another rescue opportunity.
Marital conflict = definite rescue needed
Like the Baywatch lifeguards, let's "be there before they're in trouble." Let's build relationships, demonstrate genuine care and concern, talk about our faith, and be there to point others to Jesus, the SAVIOR
A water safety tip says, "When being rescued, always reach for the red can, not the lifeguard." It reminds me that we are the ones who bring salvation – but we aren't the savior. Make sure you are helping people reach out to Jesus. He alone can save them
Final Note: I have to confess that I have never watched "Baywatch."