[featured_image]In its essence "Missional Living" is simpl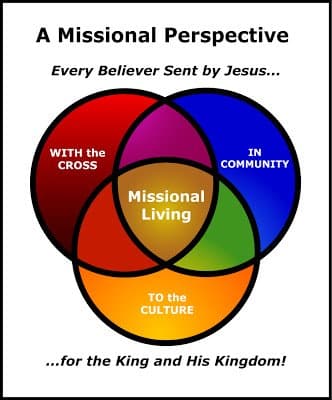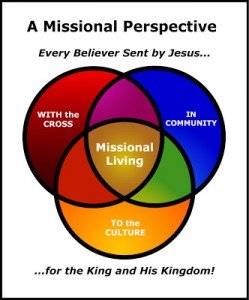 y about "embodying the mission and message of Jesus." As followers of Jesus, we ought to seek to "be Jesus to everyone everywhere."
I wrote Six-Word Lessons to Discover Missional Living to help every Christian to embody Jesus' mission – and to help Christians make disciples who make disciples who make disciples.
Here's my cool graphic of what "Missional Living" looks like
(Thanks to Elijah Hankins for improving my "cool" graphic)
Check out wikipedia on "Missional Living" here.
To whom will you "be Jesus" today?
Today's Missional Challenge
Embody the mission and message of Jesus. Seek to be Jesus to someone today!
Disclosure of Material Connection: Some of the links in the post above are "affiliate links." This means if you click on the link and purchase the item, I will receive an affiliate commission. Regardless, I only recommend products or services I use personally and believe will add value to my readers. I am disclosing this in accordance with the Federal Trade Commission's 16 CFR, Part 255: "Guides Concerning the Use of Endorsements and Testimonials in Advertising."