[featured_im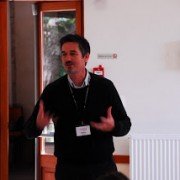 age] I love training coaches. This week I'm training coaches in Bellevue, WA (near Seattle) with Creative Results Management. When I attended the CORE Coaching Skills Certificate Program (CCSCP), I was impressed by the high interactivity of this 60-hour program.
Now as a trainer of this course for the fifth time, I am still amazed how the interactive learning exercises powerfully reinforce the principles for adult learners. I continue to hear comments from the participants regarding how helpful the learning methods are to keep them engaged.
Behind the scenes during Dave's interview with Andy Silk at the CORE Coaching Skills Certificate Program.
Here are my comments:"For me, one of the things I love about our training is that it uses adult learning methods so that the processes are not just taught through lecture, but they're really caught through experience. And it's amazing to see the things that our participants remember and all that they've gained simply through the methods that we use to reinforce the learning. And there's things that people talk about even months later when I run into them, you know, or in other contexts where they say, 'Man I still remember this' or 'Oh, that really made a difference for me.' I love that about the training. Nobody is going to be bored."
If you are interested in participating in a truly interactive coach training program, I strongly encourage you to consider the Core Coaching Skills Certificate Program offered by Creative Results Management. Events are scheduled this year in London (April), Denver (May) and Malaga (December).
I'd also encourage you to read Dr. Keith Webb's article on Making Training Active. He describes how he develops interactive training by utilizing a grid of 3 learning objectives, 3 learning styles and 3 learning postures.
As a coach and a trainer, I cannot recommend this interactive coach training highly enough!