[featured_image]Volunteers from World Relief and local ethnic churches visit men and women at the Immigration Detention Center in Tacoma every Sunday, listening, talking and praying with detainees eager for visitors.
In Luke 4:18, we read a portion of Jesus' first sermon: "He has sent me to proclaim freedom for the detainees."
Foreigners with any kind of immigration irregularity find themselves in this detention center. On a typical Sunday evening over 120 detainees come to times of worship and Bible study with volunteers from Russian, Hispanic, Vietnamese, American and Chinese churches.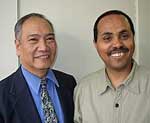 It was such a blessing for me to spend time this week with Pastor Habtom Ghebru who is the volunteer coordinator for this ministry. The impact of this outreach is impacting the world. Many detainees are coming to faith in Christ and when they are deported back to their home country, they are making disciples and starting churches.
Watch this video (4 min) as Pastor Habtom shares with Dr. Ken Morse how you can get involved.
Today's Missional Challenge
Pray for the Detention Center Ministry of World Relief in Tacoma. Ask God how you can reach out with the love of Christ to "detainees" in your area.