[featured_image]Disciplemaking is Christ's strategy to glorify Himself among all peoples by proclaiming the truth of the gospel, baptizing all who believe, and guiding their growth to obedience and spiritual reproduction.
A Disciplemaker is a fully devoted follower of Jesus Christ who is committed to ongoing spiritual reproduction.
As I work with students at Bellevue College, we are continuing to focus on what it looks like to fully follow Jesus and to help others to fully follow Jesus. Our vision is to multiply disciplemakers!
Today, we used this Discipleship Diagram (developed by Louis DeLuca – church planter of Sojourn in Oxnard, California) to identify which areas of their life they felt they needed to work on.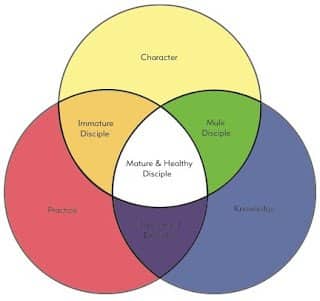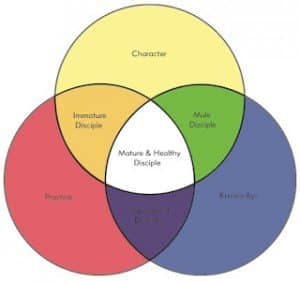 CHARACTER + PRACTICE – KNOWLEDGE = IMMATURE DISCIPLE
PRACTICE + KNOWLEDGE – CHARACTER = HYPOCRITICAL DISCIPLE
KNOWLEDGE + CHARACTER – PRACTICE = MULE DISCIPLE
One student focused on Knowledge and we brainstormed five different ways that he could work on that area this week. Another student focused on Character – choosing to focus on ways to develop in his diligence.
By looking at the model and identifying personal growth areas, they are able to take steps to more fully follow Jesus! And how to help others to follow Jesus.
In what area of your life do you need to focus?
What steps can you take in that area to more fully follow Jesus?
How can you use this Discipleship Diagram to help others to multiply disciplemakers?