[featured_image]Welcome to Day 9 as you Take the Missional Challenge!
Take the Missional Challenge is a 31 Day experience designed to help align believers with Jesus' mission. Each day's post includes missional concepts and activities. For more information – click here.
As a Christian, you've been blessed to be a blessing! You've been given the gospel – not just for yourself – but for others!
God told Abram in Genesis 12 – "Go…and I will bless you…and so you shall be a blessing." (Gen 12:1-2)
Paul states – "Those who have faith are blessed along with Abraham, the man of faith." (Gal 3:9) And God "has blessed us in the heavenly realms with every spiritual blessing in Christ." (Eph 1:3)
Believers are blessed to be a blessing!
By being a blessing to others, you enable them to see the gospel of God's grace in action. Often times, non-believers experience being blessed before they belong or believe. Blessing others can become an open door for the gospel.
Read the post on Blessing + Belonging + Believing consider the graphic below…
"We continually remember before our God and Father your work produced by faith, your labor prompted by love, and your endurance inspired by hope in our Lord Jesus Christ." (1Thes 1:3)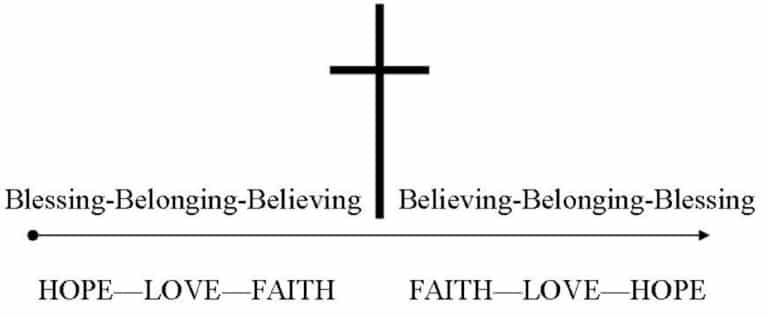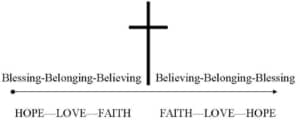 Those without God and without hope in this world are often attracted to our HOPE as Christians choose to be a BLESSING! This often leads a person into a relationship with other Christians where they see our LOVE and begin to experience a sense of BELONGING. As those relationships grow, they will see our FAITH and take steps toward BELIEVING in Jesus.
DAY 9 ACTION STEP: Discover Ways to "Be a Blessing"
Count your blessings! Write down a list of ways that God has blessed you and thank Him!
Consider ways that you can encourage and bless those around you!
Commit yourself to be a blessing as the Spirit leads you!
Day 9 Missional Challenge: Consider God's blessings in your life; then be a blessing to those around you!