[featured_image]My friend Brian Wintersteen shared this quote from Dietrich Bonhoeffer with me recently and related it to our need as Christian coaches to speak the truth directly in coaching conversations. We owe that to the person we are coaching.
In fact, we owe that to all Christians – to speak the truth candidly and directly.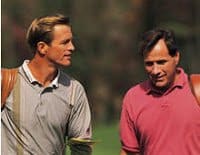 When Christians live together, at some time and in some way it must come to the point that one Christian personally declares God's Word and will to another. It is inconceivable that the things that are most important to each individual should be discussed with one another. It is un-Christian when one person knowingly denies another this decisive service. If we cannot bring ourselves to say the necessary word, we will have to ask ourselves whether we are not still seeing other Christians clothed in a human dignity that we think we dare not touch, and thus whether we are not forgetting the most important thing–that they, too, no matter how old or high ranking or distinguished they may be, are still persons like us, sinners crying out for God's grace. They have the same great troubles that we have, and need help, comfort, and forgiveness as we do. The basis on which Christians can speak to one another is that each knows the other as a sinner who, even given all one's human renown, is forlorn and lost if not given help. This does not mean that the others are being disparaged or dishonored. Rather, we are paying them the only real honor a human being has, namely, that as sinners they share in God's grace and glory, that they are children of God. (Bonhoeffer, Life Together)
There is plenty to chew on in this quote. I'm reminded that no one needs the gospel more than I do, and yet, I have a responsibility to bring the gospel truth into coaching conversations with other Christians to help them to see areas in their lives where they need to change, grow and take steps toward maturity.
I'm beginning to understand this responsibility. I realize that there are things that I need to say more directly, for if I don't tell them, who will?
Today's Missional Challenge
Speak the truth candidly. Be direct. Declare God's will and word to one another as you follow Jesus together.
Disclosure of Material Connection: Some of the links in the post above are "affiliate links." This means if you click on the link and purchase the item, I will receive an affiliate commission. Regardless, I only recommend products or services I use personally and believe will add value to my readers. I am disclosing this in accordance with the Federal Trade Commission's 16 CFR, Part 255: "Guides Concerning the Use of Endorsements and Testimonials in Advertising."